Used Sig Sauer 522 Rifle. EXCELLENT CONDITION $450.00
Comes equipped with a folding stock, a .22 magnum scope, and one magazine in addition to the original packaging/ contents. This rifle is in excellent condition.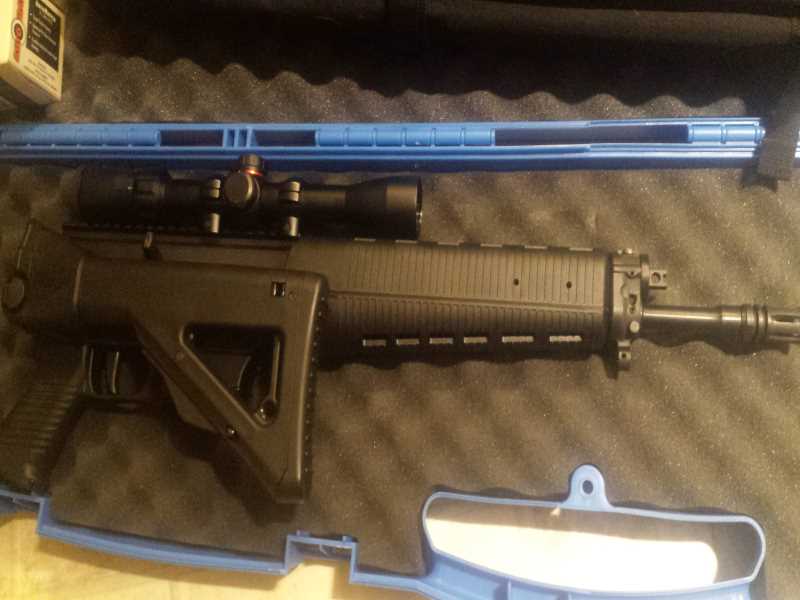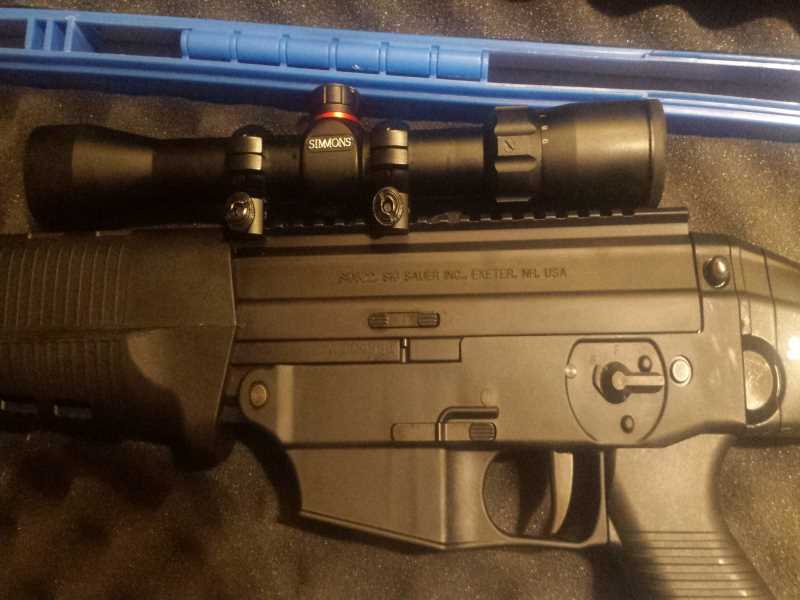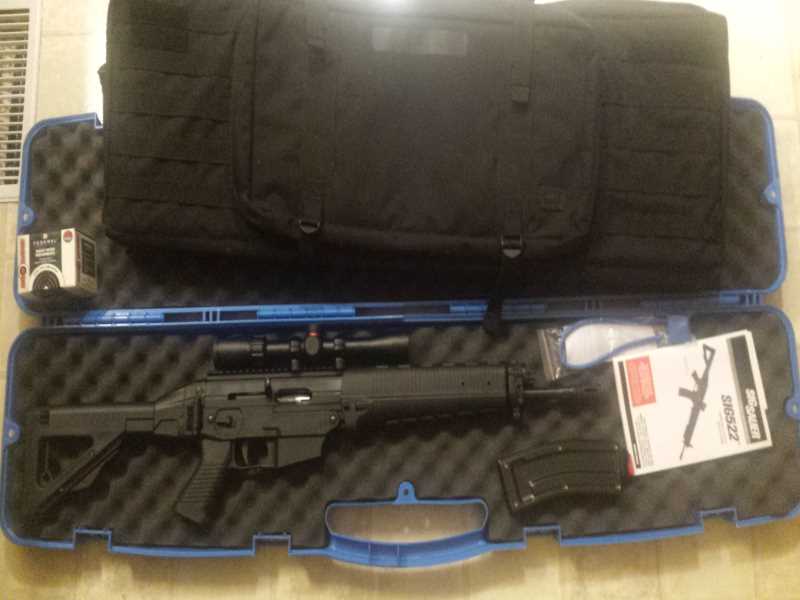 Model:

53830

Description:
CHT PINKLADY 38SP DA 2ALUM/PNK
Manufacturer:
Charter Arms
Model #:
Pink Lady Undercover Lite
Type:
Revolver: Double Action
Finish:
Aluminum (Looks Like Stainless Steel) and Pink
Stock:
Black Rubber Grips with Finger Grooves
Sights:
Fixed
Barrel Length:
2
Overall Length:
6.75
Weight:
12 oz
Caliber:
38SP
Capacity:
5
Action:
Double Action
# of Mags:
Chokes:
Packaging:
Black Plastic Case
Receiver:
Aircraft-grade Aluminum Frame
Chamber:
Muzzle:
Features:
Spurred Hammer, Shrouded Ejector Rod
3-Point Cylinder Lock-up
Model:
P22
Description:
WAI P22 22LR DA 10RD 3.4N TB
Manufacturer:
Walther Arms Inc
Model #:
P22
Type:
Pistol: Semi-Auto
Finish:
Two-Tone, Black with Nickel Slide
Stock:
Black Polymer Frame
Sights:
FT: 1-Dot RR: 2-Dot Windage Adjustable
Barrel Length:
3.42 Threaded Barrel
Overall Length:
6.26
Weight:
19.6oz
Caliber:
22LR
Capacity:
10+1
Action:
Double Action
# of Mags:
1
Chokes:
Packaging:
Receiver:
Black Polymer, Picatinny Rail
Chamber:
Muzzle:
Features:
Loaded Chamber Indicator, Ambidextrous Mag Catch
Interchangeable Rear Grip Panel
| | |
| --- | --- |
| Retail Price: | $339.00 |
| Your Price: | $289.99 |
DAVIDSON'S GUARANTEED® LIFETIME REPLACEMENT


At Davidson's, your satisfaction is our commitment. In fact, our commitment is so strong, that we have put together the only GuaranteeD® Lifetime Replacement Warranty available in the firearms industry.

It works like this......

If anything ever goes wrong with any gun you buy with the Davidson's GuaranteeD® Lifetime Replacement Warranty, it will be replaced. If no replacement is available, it will be repaired at no charge to you. Simple, just return it to the GuaranteeD® retailer where you purchased it, pay for the return shipping and upon receipt Davidson's will ship the returning retailer a *BRAND NEW GUN. See the warranty details below.

So make sure every firearm you purchase works for you. Ask for the GuaranteeD® Lifetime Replacement Warranty.


Limited Warranty Terms and Conditions
Davidson's, Inc. ("Davidson's") warrants to you that if any firearm sold by Davidson's ever becomes defective, Davidson's will replace the firearm at no charge, subject to the conditions set forth below. This warranty applies only if Davidson's sold the firearm to the licensed firearms dealer from which you purchased it and the warranty extends only to the original purchaser from that dealer. This warranty applies only to firearms that are not regulated by The National Firearms Act of 1934, its amendments and rulings. This warranty does not cover any other type of merchandise.

In order to be eligible for warranty coverage, within 30 days from date of purchase the original purchaser must complete the warranty registration online at www.galleryofguns.com. If Davidson's determines that your firearm satisfies the conditions for warranty coverage under this limited warranty, Davidson's will, at no charge, replace the firearm with the same model. If no replacement is available, Davidson's will repair the firearm if the firearm can be repaired, as determined by Davidson's in its sole discretion. If the no replacement is available and Davidson's determines that the firearm cannot be repaired, Davidson's will replace your nonperforming or defective firearm with a firearm that, in Davidson sole determination, is substantially similar to the your firearm. This warranty extends to any and all parts of the firearm as originally sold by us, but does not extend to any firearm that is altered or rebuilt after original purchase, damaged through abuse, misuse or lack of proper care and maintenance, or used other than for its legal intended purposes. To obtain performance under this warranty, you must return the nonperforming or defective firearm to the licensed firearms dealer from which you purchased and pay the cost of shipping the product to Davidson's. TO AVOID VIOLATION OF STATE AND FEDERAL LAWS, DO NOT SHIP THE FIREARM DIRECTLY TO DAVIDSON'S. If the dealer is no longer in business, you may contact us directly at Davidson's, Inc., 2625 Stearman Road, Prescott, Arizona 86301, 928-776-8055, to arrange for you to deliver the firearm to another licensed firearms dealer.

DAVIDSON'S LIABILITY FOR BREACH OF ANY WARRANTY WITH RESPECT TO A FIREARM SHALL BE LIMITED TO REPLACING OR REPAIRING THE NONPERFORMING OR DEFECTIVE FIREARM AS DESCRIBED IN THIS LIMITED WARRANTY. THIS LIMITED WARRANTY SHALL BE YOUR SOLE AND EXCLUSIVE REMEDY WITH RESPECT TO A NONPERFORMING OR DEFECTIVE FIREARM, AND. DAVIDSON'S WILL NOT BE LIABLE FOR ANY OTHER DAMAGES, INCLUDING DIRECT, INCIDENTAL OR CONSEQUENTIAL DAMAGES OR DIMUNITION IN VALUE DUE TO REPAIR OR REPLACEMENT WITH A DIFFERENT FIREARM. Some states do not allow the exclusion or limitation of incidental or consequential damages, so the above exclusion may not apply to you. This warranty gives you specific legal rights, and you may also have other rights which vary from state to state.

*BRAND NEW GUN:
If no replacement is available and your firearm can be repaired, we will send your firearm to the factory or an authorized warranty station for repair. Some manufacturers run up to 120 days in processing repairs.